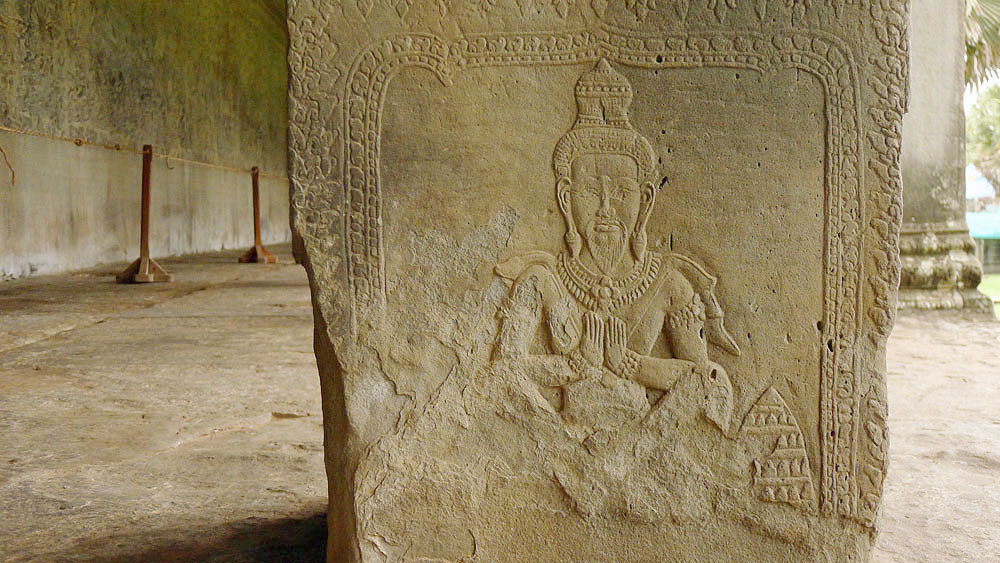 A few years ago, a friend and fellow Bikram teacher decided that he was going to start a daily meditation practice. He could sit beautifully and comfortably in a Half Lotus posture and figured he would have no problem meditating for 30 minutes, 40 minutes, however long he wanted to. But when he closed his eyes and was confronted with his own mind, he felt so agitated that he had to stand up and do something, anything, for relief.
If this is the experience of an accomplished hatha yoga practitioner, just think how daunting meditation can be for the average beginner.
It doesn't have to be.
Context is everything
The most common complaints I hear from beginning meditators are, "I can't control my mind," "I can't stop my thoughts," "I get caught up in fantasy," or "I just fall asleep," all of which lead to helpless cries of "I can't meditate at all!"
None of these are issues to be concerned about.
The first thing a new meditator needs to do is to give up all pre-conceived notions of what meditation is. Meditation is not about controlling your mind, stopping thought, feeling bliss, having visions, realizing the oneness of all life, or any kind of spiritual phenomena. To get caught up in such expectations is completely missing the point. There are no such criteria that determine whether you are meditating or not.
Then what is meditation and how do I know I'm doing it?
Meditation at its core is a process of building a body of attention and learning how to use it. As simple (and profound) as that. The way to do that is by observing. And what you observe is your mind.
It doesn't really matter what your mind is doing. What matters is that you are paying attention, that you are aware. And the beauty of the meditation process is that you will find that you can't help but be aware, if often painfully so.
As my yoga teacher friend discovered, meditation in the beginning is a process of both confronting your mind as well as being confronted by your mind. You shouldn't let that worry you, though, because it doesn't at all mean there is a problem to be solved.
What confrontation eventually leads to is getting to know your mind, befriending your mind, and rather than learning to control it, accepting it and letting it be as it is. The way to do that is by simply observing with nonjudgmental attention.
So if you sit for thirty minutes and fantasize about sex, or go over your grocery list, or simply fight the urge to run out of the room, no problem. You've learned something about how your mind works and you've flexed the muscles of attention.
As your body of attention grows, and as you gradually learn to accept your mind as it is, you will find that the mind likes to be observed, it needs to be observed, is soothed and calmed by being observed.
You begin the process of taming your mind, not with control, or force, or any means of aggression, but simply by letting it be without suppressing its natural vigor.
Posture is everything
As long as you are on your cushion something is happening, no matter how uncomfortable you may feel, as long as you stay put. Therefore, posture is key.
The most important thing is to keep your back straight. No slouching. If you are able to do this sitting cross-legged, that is ideal. If not, you can sit in a chair with your feet flat on the floor.
If you are an advanced yoga practitioner, you may be able to sit in Full Lotus position. That's great and impressive, but not at all necessary. Most people will be more comfortable in Half Lotus position. Good enough is good enough.
You will need a cushion that is firm enough and thick enough to keep your hips higher than your knees. A Japanese style zafu, like the one pictured below, is ideal.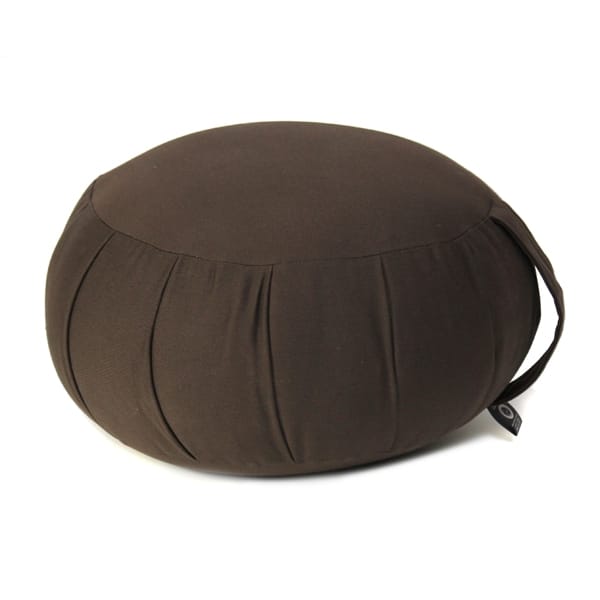 Follow these steps to set up your posture:
Sit at the edge of your cushion with your pelvis very slightly tilted to prevent slouching.

Bring the heel of your left foot in towards your perineum (center of your groin).

Bring your right foot up and rest it on the inner calf muscle of your left leg (wherever is most comfortable) so that your both knees are resting comfortably on the floor.

Straighten your spine.

You can rest your hands flat on your thighs or simply sit with your hands clasped below your navel.

Check again that your spine is in an erect position — you can rock back and forth just a little to make sure you're comfortably settled.

Gently close your eyes.
Once you have your posture, challenge yourself not to move again. If you experience pain, you can re-adjust yourself, but otherwise be as still as possible. Not rigidly still. Relaxed and still. But still nonetheless.
Stillness of body leads to stillness of mind.
Reigning in the mind
Once you've learned to sit comfortably in stillness, you may find it useful to gently reign in the mind's tendency toward getting wrapped up in thought.
Why? Well, as your body of attention grows, you will realize that getting lost in thought is not just a matter of your mind running wild. It requires effort.
What is in fact happening is that you are identifying with particular thoughts as they arise in your stream of consciousness, attaching to them, feeding them, and following them down a far off path. You are giving your attention to thought, as opposed to simply observing. To get the most out of your practice, you will need to learn how to reclaim your attention.
The most effective way to reclaim your attention is to simply acknowledge the situation. When I notice that I've gotten hooked by a thought, I say to myself, "Thinking," as suggested by Tibetan Master Chogyam Trungpa, and it immediately brings my attention back to center. When I find myself carried away again: "Thinking." And so forth.
As a beginner you may find that you are constantly being carried away by thought without even being aware of it. You may spend an entire session on your cushion working out some problem in your mind and never bringing yourself back to center.
It's important that you don't beat yourself up about this. As long as you stay on your cushion, something is happening. Even when you think it isn't.
Using the breath
A useful tool for reigning in the mind is to give it something small to focus on, like the breath. The most commonly taught Buddhist meditation technique is to count the breath.
To do this, observe the breath pass in through the nose, out through the nose, and count it as it goes — 1 on the inhale, 1 on the exhale, all the way up to 10, then back to 1 again. As a beginner, you may need to concentrate to keep your mind from wandering, but with practice you should be able to count your breath with only 25% of your attention, while the other 75% remains free to observe bodily sensation, stream of consciousness, and internal space.
If you don't like counting (I don't), an alternative approach is to simply place your attention lightly at the tip of your nose and observe your breath as it passes in and out.
Just sit
My personal meditation path is unique in that I was initiated, at the age of 23, by an old-school master who started me out with a somewhat advanced approach, which I've been wrestling with ever since.
His instructions were to to just sit and be with what arises, to rest in pure awareness, to do absolutely nothing. Sounds simple enough, but without the breath (or any other tool) as an anchor, it can be difficult to keep the mind from slipping into thinking. Yet this is what my teacher demanded of all his students, right from the beginning. He was in fact adamant about not paying attention to the breath at all.
Why not pay attention to the breath? According to my teacher, as one enters deeper states of meditation, the breath will naturally slow down. And when one enters very deep meditative states, the breath may stop entirely without our even realizing it.
So while placing attention on the breath may help to reign in the mind, the very act of doing so can lock the breath in place, thus becoming an obstacle to going deeper.
As a beginner, you might want to start by using the breath, and once you feel anchored and confident, forget the breath and just be with what arises.
For instance, if you are sitting for 40 minutes, follow your breath for 20 and then rest in free attention for the remaining time. If you feel that your attention is getting away from you, you can always come back to the breath.
Bite off enough to chew on
With the increasing popularity of meditation, there are a lot of instructors out there encouraging beginners to start with very short periods of sitting, like 5 or 10 minutes, just to establish the habit. While this approach sounds smart and is certainly less intimidating, I don't think it gives one a real taste of the power of meditation. You can handle more.
I recommend starting with 20 minutes. It's really not that long and is absolutely doable for the vast majority of people. If you commit to it, if you carve out the time and make up your mind, you'll be surprised at what you are capable of.
Once you get comfortable with 20, you can up your game to 30, and eventually 40 minutes or longer. You'll find that there is a significant difference between 20 minutes of meditation and 30 minutes. And an even greater difference between 30 and 40. 40 minutes of daily meditation can transform your life in surprising ways.
The effects of meditation are cumulative. The more you give to the practice the more you will see results.
A version of this article was originally published on June 22, 2016 on Johnny's now-defunct blog, paleobangkok.com