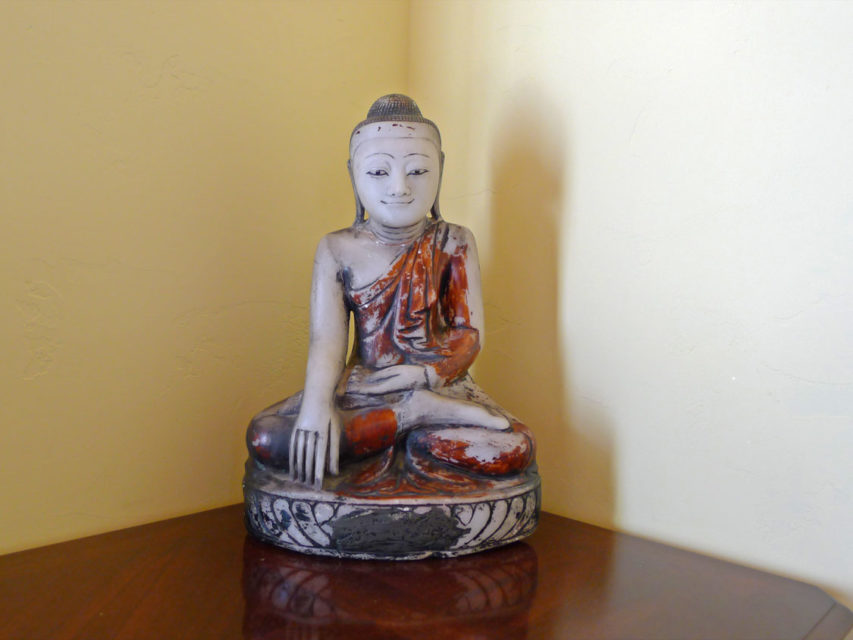 Virtually all approaches to sitting meditation incorporate four foundational elements – posture, stillness, silence, and breath. I think of these as the four pillars of meditation. In this article I consider the optimal ways to work with each.

Whether you are new to meditation or a seasoned practitioner, I hope you find something here to deepen your practice life.
First Pillar: Posture
Everything in meditation starts and ends with posture. Whether you are sitting in a classic meditation pose, like half-lotus, or sitting upright in a chair, the common denominator is a straight spine.
The spine straight position is important because it is a combination of wakefulness and relaxation. A straight spine represents a readiness to engage with whatever arises.
Japanese Zen master Shunryu Suzuki once said that the meditation posture itself is the perfect expression of human life. Since first hearing this, I've given much thought to exactly what he meant.
The way I've come to interpret it is that the very act of taking the meditation posture represents an opening to the Great Mystery of our existence. It's a gesture of wanting to know the nature of the Self, of Consciousness, of the Universe that's birthed us. In other words, it's an expression of the deepest possible desire a human being is capable of feeling. An alignment of the body with the highest possible aim of the soul.
Not just that, but according to the teaching of "already-present-enlightenment" – which asserts that we are all already and always fully enlightened and only asleep to the fact – taking one's seat in meditation is in a sense the full journey. One brings the totality of one's Self onto the cushion.
From there the great unraveling unfolds.
Second Pillar: Stillness
Once one finds the posture, the challenge is to be still. Stillness of body leads to stillness of mind.
Stillness of body is achieved by a simple act of will – simply not moving. Stillness of mind, on the other hand, requires finesse.
In meditation we still the mind by simply observing. It is not a matter of control, or suppression of thought, or any act of force. We let the stream of consciousness flow and just observe what arises. We let the mind be there.
What we discover is that the mind likes to be observed and is calmed by observation. A calm mind will relax the thought process (which is a kind of effort) and eventually rest in stillness. The stream of consciousness will remain, the way water flows through a river, but the mind will be still.
Now, it's important to understand that that which observes is not the mind. The mind is a kind of lens through which we may practice observation, but it is one's being which observes. The being, or soul, is consciousness itself and exists prior to the thinking mind. The being's natural state is wakefulness.
When the being observes, it does so in a state of wakefulness. It neither judges nor goes to sleep in the face of what it observes. Neither acts nor reacts to what is observed. Is neither active nor passive. It is awake and seeing in a state of perfect stillness.
Stillness is a state of effortless awareness, of perfect "not doing." It can not be brought about by use of techniques or any kind of effort. To enter a state of wakeful stillness, one must relax into it.
For instance, you may notice that part of your mind is always anticipating the end of the meditation period. There is always some degree of restlessness, however subtle, some degree of an eye to the future.
The eye to the future is a kind of holding on to subtle tension in the mind-body continuum, a resistance to relaxation.
The doorway to deeper relaxation then is surrender to the eternal moment. We must learn to settle into our meditation as if we are going to be there "forever," not looking toward the future in any way, not anticipating the bell that ends the meditation period.
Stillness in meditation is a process of letting go into deeper and deeper degrees of relaxation.
We must learn to accept being only here, only now, as if no other moment but this will ever exist. Or as my teacher used to say, Just This!
Third Pillar: Silence
If meditation is the art of doing nothing, then it naturally follows that we should sit without making noise. Mantras, techniques, any kind of directed use of attention, all require effort and thus are forms of noise.
It's popular in the modern mindfulness movement to guide novices to be "mindful" of the sounds in one's environment – the sound of wind through trees, a bird chirping, cars rolling by outside a window. This can be a useful way to bring the attention away from thought and into the present moment, but it's a technique and is therefore active (not still) and by being active is, again, a form of noise.
What one should instead be mindful of is the silence that proceeds sound – the silence that is always present, always here and now, as sounds arise and go.
Being mindful of silence is different than being mindful of sounds. When you listen to sounds, your attention goes to where the particular sound is coming from. But your attention can not go to silence because silence doesn't exist in any one place.
So you can't really listen to silence. You can only open to it. And this is where silence becomes a great teacher. Because when you open to silence, you are opening to vast space, which is your true nature:
Vast Space = Pure Awareness = Consciousness = The Being Who Observes = You
If you go out into the desert and are still, when the chattering of your mind stops and you open to silence, you will remember yourself and know who you are.
Silence in meditation is a doorway to self remembering.
You know yourself in silence.
Fourth Pillar: Breath
If stillness and silence sound elusive and difficult to achieve, that's because they are. Fortunately, the breath is available to guide us.
The breath is a bridge linking body and being and can serve as an indicator of deep-rooted stress. Whatever stress is embedded in the body shows up in the breath. Conversely, releasing tension in the breath can resolve stress in the body.
There are many, many techniques by which one can manipulate the breath to effect the body's physiology. Like all techniques, they have their place and can be useful at various stages on the path, to an extent. But, as previously discussed, techniques are active – neither still nor silent – and are ultimately barriers to pure sitting practice.
The best way to practice with the breath is to let it be, to observe and "listen" (open to it), to let it guide us to locate and release subtle layers of tension in the body.
Being silent, in a state of receptive listening, opens us to the signals the breath is sending and allows us to respond with deeper stillness. Relaxing into stillness resolves tension in the breath and body. And the process goes on like that.
Meditation is a process of unraveling the knots imbedded in the body-mind continuum. Through this unraveling we achieve deeper and more penetrating stages of relaxation. Relaxation takes us deeper into our body and deeper into our practice, where the heart of all things is revealed.
Through posture, stillness, silence, and breath, we find the way. 
This article was originally published on Johnny's now-defunct health-coaching blog, wayofearth.com