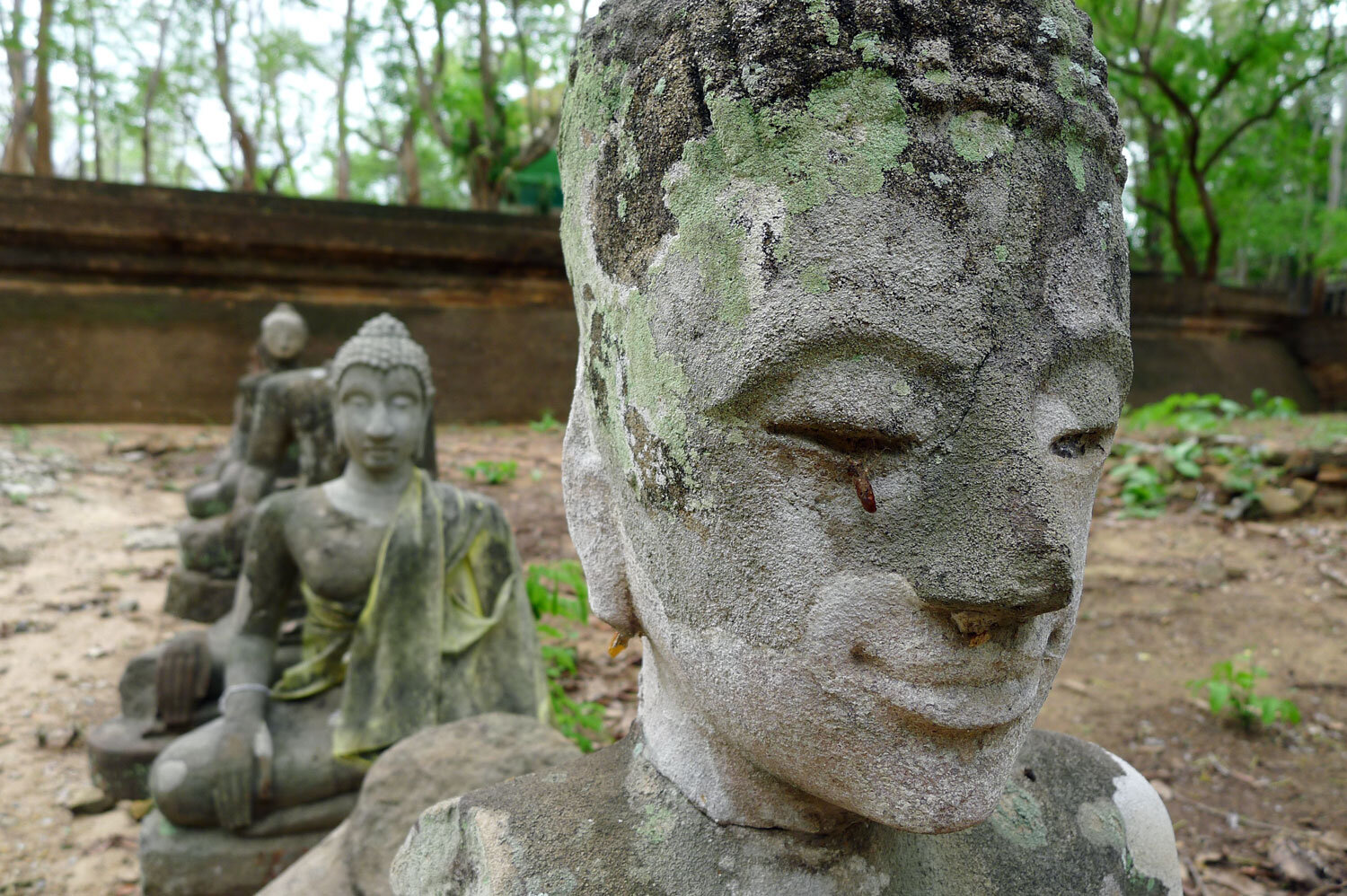 Everybody's talking about mindfulness these days. My favorite paleo podcasters are talking about the health benefits. My social media feeds are littered with ads for meditation apps. Even the banker who lives across the hall from me is interested in being "more present." Mindfulness is having a moment, as they say.
And yet, despite being a meditator myself, there's something about this mindfulness talk that bothers me. I've been struggling to put my finger on exactly what it is.
It's not just the taint of commercialization (McMindfulness, anyone?). Not just that I see it as a Buddhist Trojan Horse of sorts – a clever ploy to get the normals meditating. As distasteful and deceitful as commercialization and proselytism can be, what bothers me most about the mindfulness movement is its dangling carrot stick of irresponsible promises.
What is Mindfulness?
The concept of mindfulness has been around for as long as Buddhist ideas started seeping into American popular culture – first among the beatniks, then the hippies, then with the establishment of serious Buddhist sanghas. What's unique about the current mindfulness movement, however, is its evidence-based approach and insistence on approaching meditation in a purely secular context. Mindfulness meditation is being embraced by academic, scientific, medical, and corporate communities. Even avowed atheists like Sam Harris are championing the practice of meditation.
The word "mindfulness" itself is a flashy-sounding way to describe a simple process of cultivating awareness through the practice of sitting meditation. Awareness of what's happening in one's environment, awareness of bodily sensation, awareness of thought patterns, awareness of one's feelings, awareness of breath. A learning how to pay attention, in other words. And to do so without judgment, to simply observe, to be present to what's arising in the here and now.
That's the basic, entry-level practice. The esoteric practice is to be mindful of who or what exactly is doing the observing. But that's a whole other ballgame and subject of a future blog post. For now, let's look at the selling points of the basic practice.
What are the Promises of the Mindfulness Movement?
Mindfulness meditation has been associated with improved cognitive function, beneficial changes to brain chemistry, increased neuroplasticity, improved cardiovascular health, decreased systemic inflammation, improvement of the gut-brain axis, improved sleep, better stress management, lowering of blood pressure, pain management, the list goes on and on.
In addition to the health benefits, consistent meditators report feelings of being more present to their lives, enhanced creativity and ability to focus, increased productivity and performance, heightened self-awareness, self-acceptance, improved body awareness, even heightened sexual response and sensitivity.
It all sounds good and it's by no means my intention to dispute theses claims. In fact I agree with them wholeheartedly. But the practice of meditation was not originally conceived as a means to general wellness or self-improvement. To the contrary, and herein lies the rub, meditation is a powerful yogic practice designed to undermine the ego structure, to annihilate the illusion of self, to bring one into relationship with naked reality.
Perils of the Path
"The search for Reality is the most dangerous of all undertakings, for it destroys the world in which you live." — Nisargadatta Maharaj
I liken meditation to the use of psychedelics. Sometimes you eat the plant medicine, your mind opens right up, and you're transported to a world of endless revelation. Other times you may have to journey through some difficult spaces where you are forced to face deeply unpleasant realities about yourself and the way you are living your life. Those dark trips usually give way to the light, but they are an integral characteristic of the psychedelic experience nonetheless. If you trip enough times, you will know them.
Meditation initiates a similar process, though much more gradual and less dramatic. You may meditate for years and experience nothing but relaxation and mental clarity, but eventually the practice will uncover parts of yourself that you may not want to see.
Typically a meditator is first confronted early on in the process by his or her own mind, then by subtle emotions bubbling up beneath the surface, and by ways in which tension and stress show up in the body and breath. These are all entry-level challenges and not too problematic to manage. In fact, getting intimate with the mind-body continuum at this point usually yields highly beneficial results – enough to keep one coming back to the practice.
As one progresses, however, and it usually take years, the power of the practice works its deeper magic. Cracks in the armor of ego begin to form. One may begin doubting the most basic assumptions about one's place in the world. Things that have been sources of great fulfillment may begin to lose their meaning. One may begin to feel as if the rug has been pulled out from beneath one's sense of self.
Past traumas that are stored in the body may be unearthed and "re-experienced." This can happen suddenly and dramatically, like, say, in a retreat setting when one is meditating multiple hours per day. Or it can happen subtly, just below the surface of consciousness, in which case the practitioner may first experience it as an inexplicable sense of anxiety.
The undermining of the ego structure as well as the unearthing of stored trauma are desirable outcomes for one who has set about the path of meditation with the aim of knowing Reality. But for the lay person without a map, it can be confusing, anxiety-provoking, and in some cases can lead to existential crisis and/or psychological breakdown.
Superficial Stress vs The Cramp
It's ironic that a practice touted as a tool for stress management so often produces anxiety. To understand how this can be the case, it's necessary to understand that there are two levels of stress in the body.
The first level is what I would call superficial stress, or accumulated stress, and is the kind of stress that is most effectively managed by mindfulness practices. By reigning in the mind, by working with the breath, by releasing points of tension in the body, beginning meditators will typically experience near-instant results. Superficial stress can be caused by extrinsic influences – job, family, urban environment – or can be intrinsic – a result of worry or other psychological pressures. In either case, meditation can be an effective antidote.
The other kind of stress is more deeply rooted in the body and psyche. My teacher called it "the cramp." It's our basic recoil against the world, against the fact of our existence, against the groundlessness of being. It's what keeps our world in place, defines the parameters of our consciousness, and protects us from the void. It keeps our ego structure firmly in place. You could say it's in fact a survival strategy of ego. It's what stands between our measly little fish bowl worlds and the fathomless sea of Absolute Reality.
The cramp is a knot interwoven by the psyche and the body, on an unconscious level. It is the primary source of stress in our body. No matter how well we manage our superficial stress, the cramp is always there. It will not let us relax completely. The path of meditation then becomes a prolonged process of piercing the cramp, of unravelling the knot of our being, of arriving at a deep existential relaxation.
There is much to say about that process – it's a lifetime of work – but for purposes of this article, let's just say that the ego structure is heavily invested in keeping the cramp in place and is very clever about doing so. For ego it's a matter of life and death. If and when through sitting practice you get close to it, alarm bells will sound through the halls of your psyche. You may experience those alarm bells as an inexplicable sense of dread or anxiety, an amplification of neurotic tendencies, or a compulsion to indulge addictions.
The mindfulness movement, with its lofty promises, doesn't tell you that.
So Should I Not Meditate?
Fine, you may say to yourself. I'm not interested in piercing the cramp. I just want to manage my superficial stress and mindfulness practice is great for that. I don't want to take my practice any deeper.
If you are a beginning meditator seeking simply to reign in and calm your mind, I don't want to discourage you. In all likelihood you will experience tremendous benefits. And if your practice does bring you in close proximity to the cramp, if you begin to feel uneasy in any way, you will probably find yourself abandoning meditation for some other means of stress reduction, like hatha yoga, or trail running, or resistance training, all of which are great.
But if you decide to really engage the practice of meditation beyond 5 to 20 minutes with a meditation app, you should do so with open eyes and it helps to have a guide. Traditionally that guide was a guru, or meditation master, but it can also be a coach, a friend, or the dharma (Buddhist teachings). The value of the dharma, whether or not one identifies as Buddhist, is that it provides a map of the path so that you know what lies beyond the corners.
The practice of meditation, which pre-dates Buddhism, emerged from antiquity as an integral part of a worldview, or a spiritual cosmology, which itself functions as a map. Serious practice without a basic understanding of that cosmology is ultimately fruitless and in some cases can be dangerous. In a future article I will discuss the importance of engaging meditation in the context of its spiritual cosmology.
A Final Word
As an aspiring health coach, I have mixed feelings about teaching meditation to my clients. On one hand, I think it is mostly harmless. I think the vast majority of people will benefit greatly from a daily practice. And I will confess to exaggerating the aforementioned pitfalls to drive home my point. As already suggested, if you begin to touch something deep, your survival instinct will probably move you to abandon the practice without your even knowing what's happened. The path does have guardians at the gate, there to protect the innocent.
On the other hand, meditation is a powerful practice and if you learn to engage it effectively enough to manage your superficial stress, you may get more than you bargained for.
In any case, the practice of meditation is neither the walk in the park nor the cure-all that the mindfulness movement makes it out to be and it's irresponsible to sell it as such.
This article was originally published on Johnny's now-defunct health-coaching blog, wayofearth.com